Want to try something new?
Connect with your friends
and get inspired!

My Taste UX

A personalized approach to food delivery
mobile apps!
Project overview
My Taste is a food delivery mobile app for a start up company that provides third-party delivery services. As a solo product designer, I used user research to identify main pain points and developed a design solution to address them.
The emphasis was given in the ordering process, from selecting your preferred restaurant up to placing an order.
I focused mainly on the research and smooth flow of the user by making the app more personalized, less overwhelming and helping users to make more informed trustworthy decisions based not only on the quality of the restaurant but also on meals that match their preferences.
Role
Product designer
User Research, Interaction design, Visual design
Research
User interviews, Surveys, Comparative analysis, Usability testing (face to face interviews).
Project duration
6 months (part time)
The problem
Can a hungry customer spend an average 30 mins time on deciding what they like to eat? It's impossible! Many food delivery services are overwhelming for the user, offering generic categorization with long lists of options and sometimes too much advertising, making the ordering process an unpleasant experience.
User Value Proposition
Convenience: A platform that allows customers to have a more personalized, less overwhelming experience.
Time-saving: A streamlined ordering process that saves customers time and allows them to quickly and easily place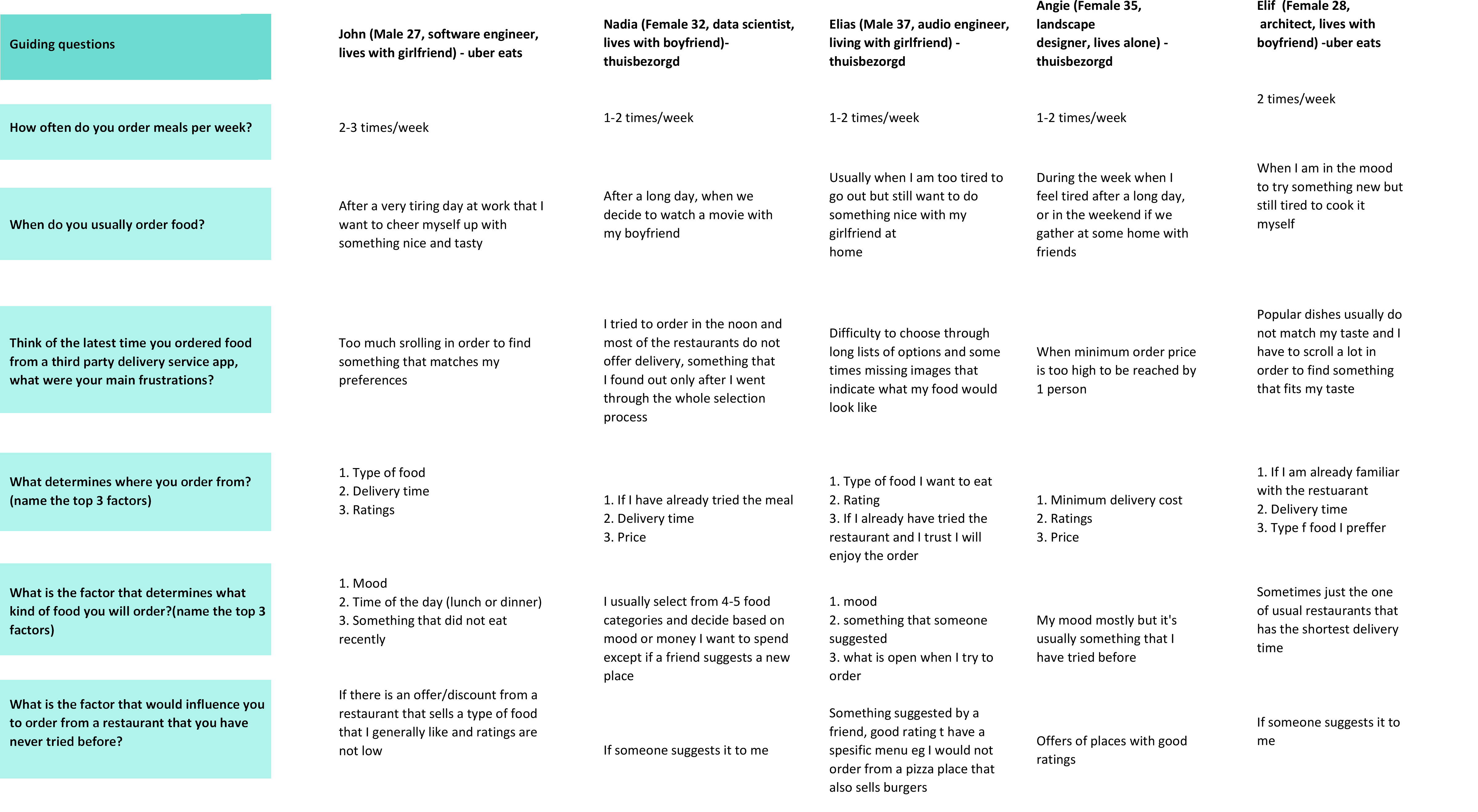 #1.1 Empathize|Interviews
At the 1st phase of my project, I conducted 5 interviews in order to get a better understanding of the reasons that drive people to order food online and the frustrations they face. Our target audience consists of millennials and early gen z customers who are tech-savvy and value convenience. They are busy individuals who want to order food quickly and easily, without sacrificing quality or taste.
Research goals-Identifying:
the mental model of a person ordering food.

common challenges and frustrations people experience during the process of ordering from a restaurant.

which factors influence people in their ordering procedure

which factors motivate people to try a new meal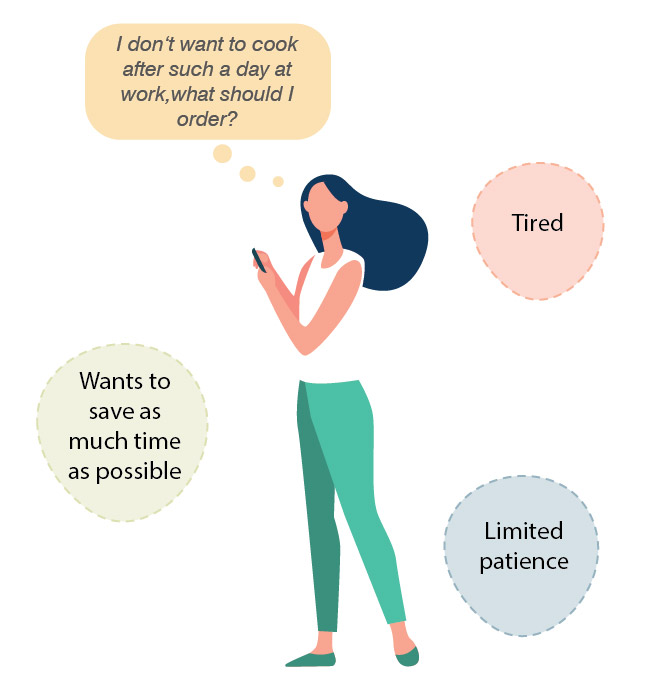 Mental model of users while ordering food
Trying to find something to order when you are already hungry, especially if this is combined with a long day of work, can be quite frustrating. Most people feel impatient during this procedure and want to spend as less time as possible in this procedure.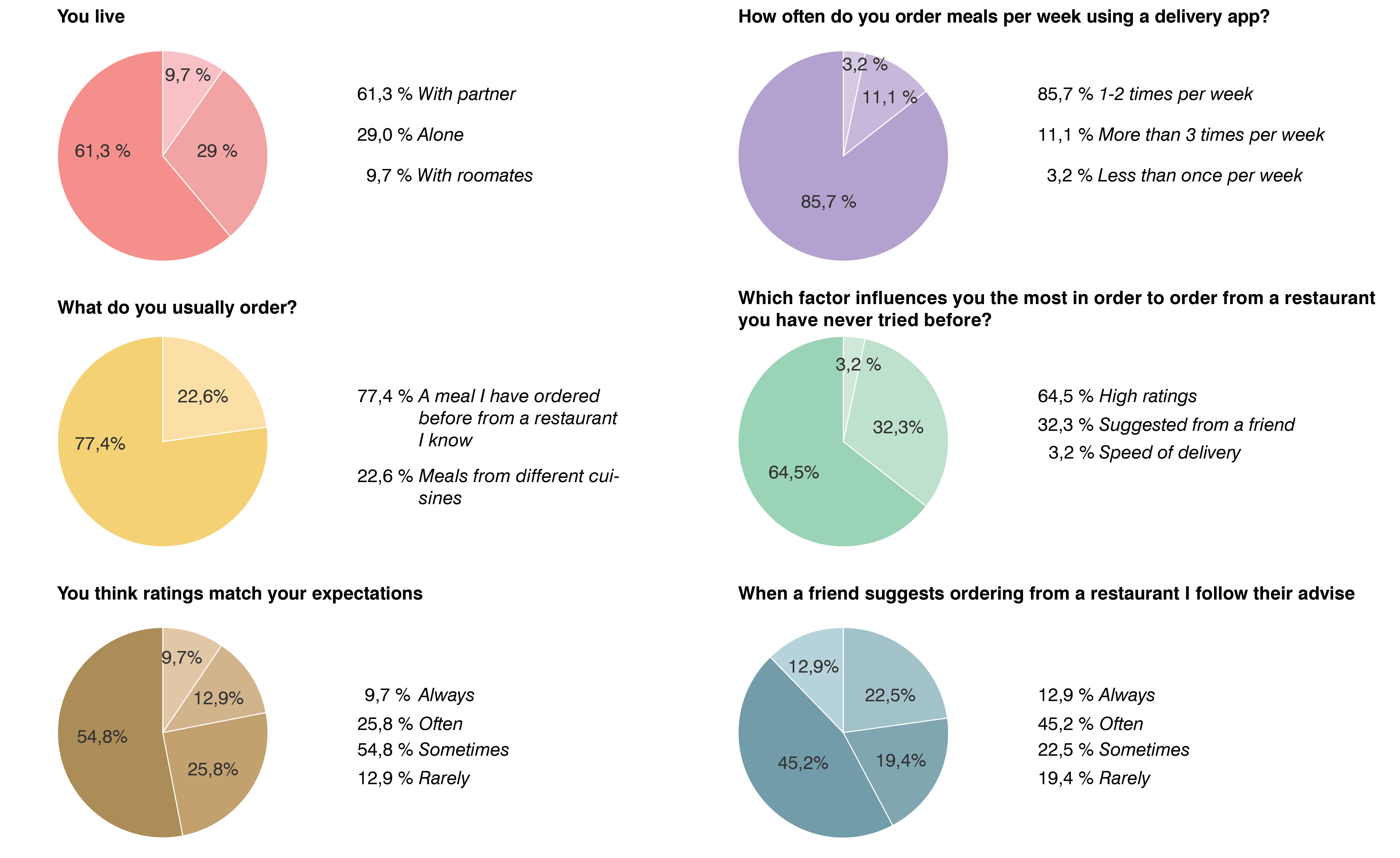 #1.2 Empathize|Surveys
After I conducted the 5 interviews I wanted to test the findings in a larger number of people in order to make sure that the results represent indeed a broader amount of people. I shared the questionnaire through Reddit and other social media in order to get more reactions. 31 people replied.
The conclusions were quite clear. The highest majority orders at least once or twice per week and mostly meals that have ordered before. Moreover, while ratings are quite important in order to decide for a new restaurant or meal in many cases they do not live up to the consumers expectations. It is also apparent from the questionnaire that people tend to follow the suggestions of their friends when it comes to trying something new.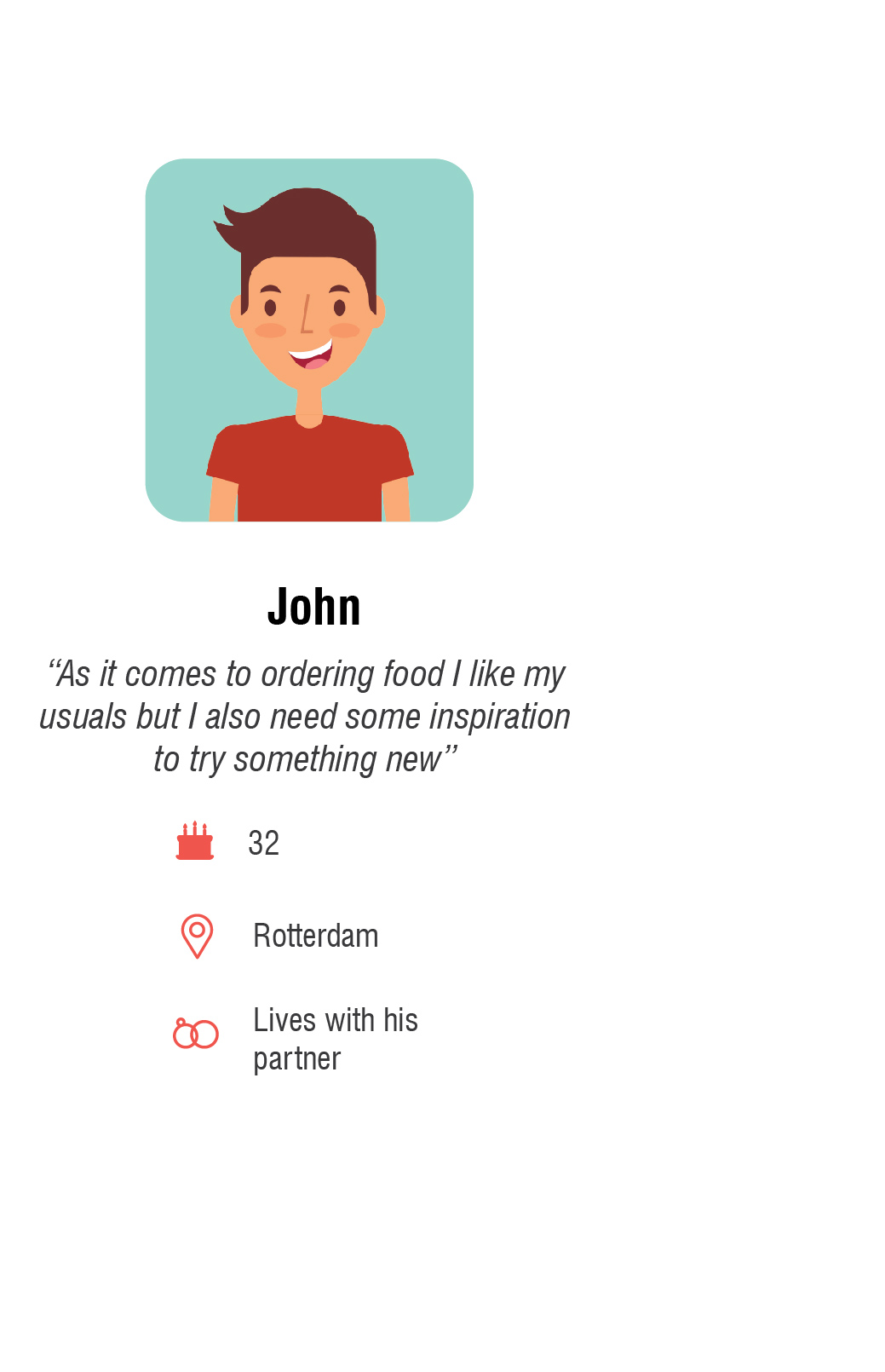 Meet John
John has a full time job in a startup company and sometimes he has to work overtimes. He doesn't have much time to spend on cooking and decision making regarding food.
Goals
•To minimize time on decision making for ordering food.
•To get trustworthy advises in order to try new cuisines and meal options.
Pain points
•He feels frustrated that he has to go through long lists to find and order his usual meal.
•He is hesitant to try something new .
•He feels disappointed when ratings do not match his expectations.
•He feels overwhelmed by the many choices other apps offer.
User journey
Scenario 1: Ordering from a restaurant you have ordered before

Scenario 2: Ordering from a new restaurant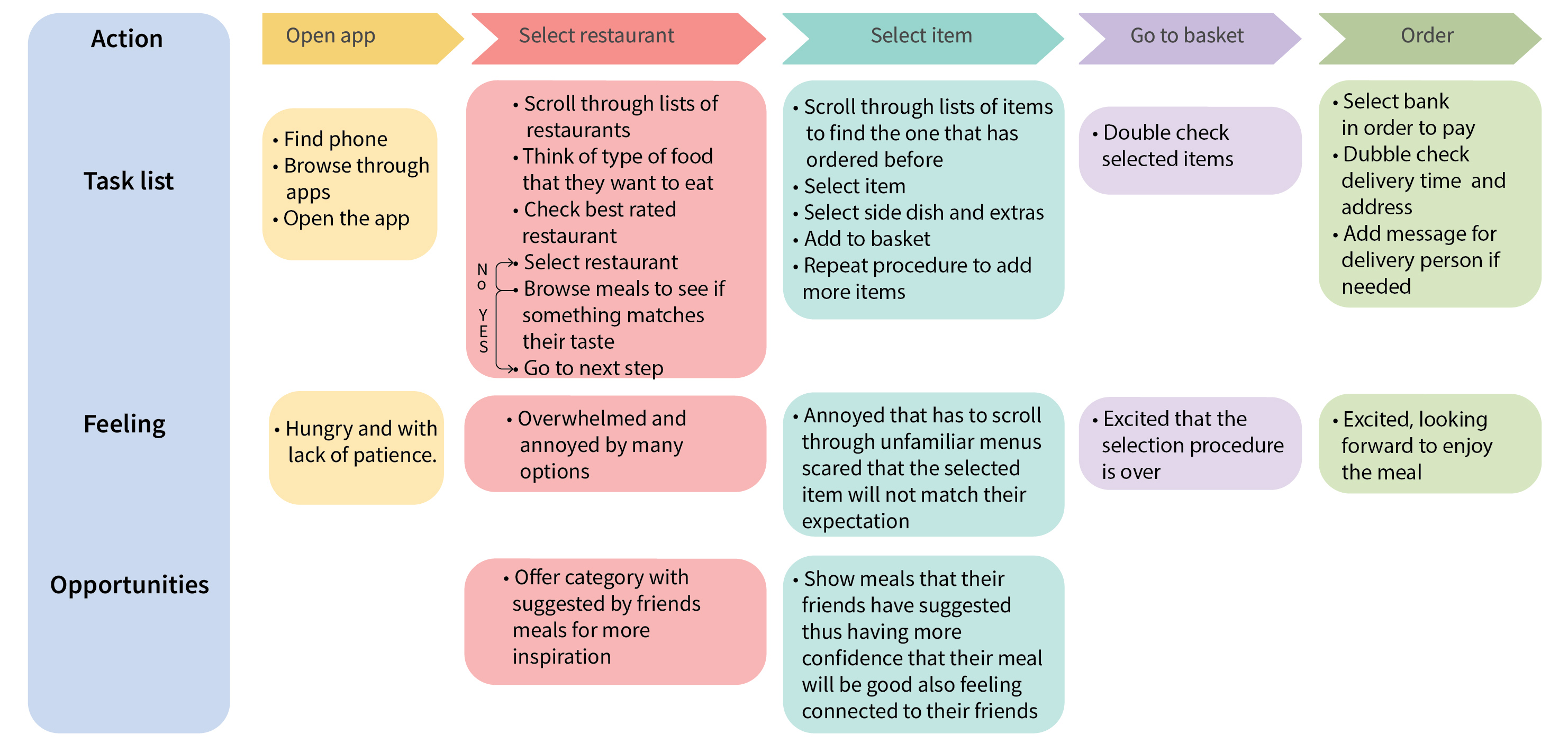 #2. Problem Definition
A busy young person with limited free time who needs a way to simplify their meal options because they get frustrated and overwhelmed trying to decide what to order. #3.1 Ideate | Competitive audits
For the competitive audit I chose to analyze 4 3rd party delivery apps:
Thuizbezorgd (Direct competitor)

Deliveroo (Direct competitor)

Ubereats (Direct competitor)

Gorillas (Indirect competitor)
The main points of focus for the competitive audits was the primary navigation menu, the home page, and all the screen states from the search and select your item screen until the payment screen.
Too many options to decide from!
While in all apps the user flow was clear, one of the main issues that was mentioned during the interviews was the feeling of being overwhelmed by many restaurant and meal options. In all the existing food delivery apps there are common steps in the ordering process that offer a long list of choices to the user, an aspect that actually makes it difficult to make a decision, especially when they think of trying something new.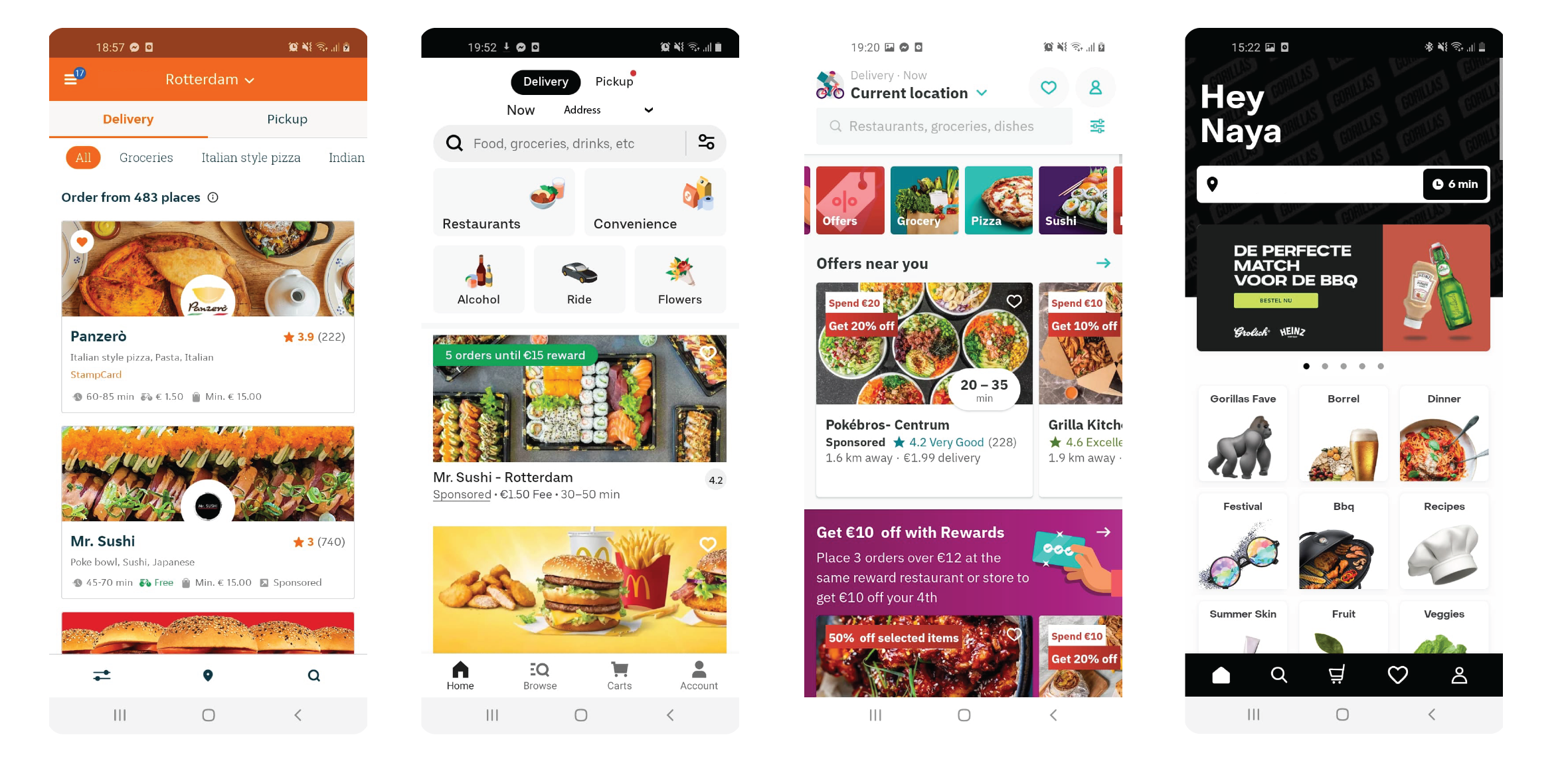 Paper wireframes
At this stage I worked on iterations of the homepage based on comments that I got from users and concluded on a final design. The information that was selected to be demonstrated in the homepage is based on the previous steps of the research but also the competitive analysis.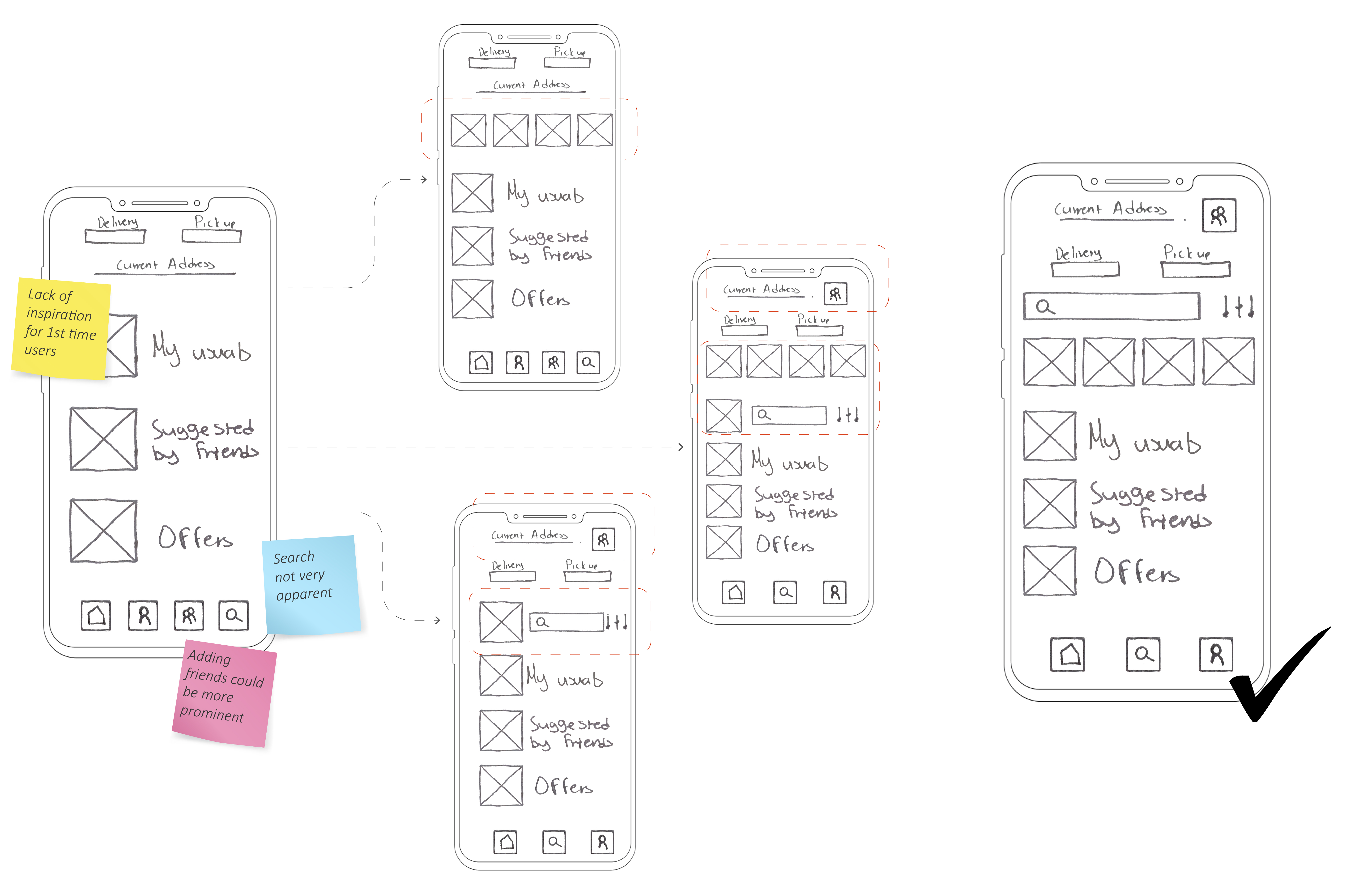 Digital low fidelity prototypes feedback A robust and scalable design system
Defining design systems is a very important step in order to be able to create pixel perfect apps and websites that can scale up easily since the main principles are already set.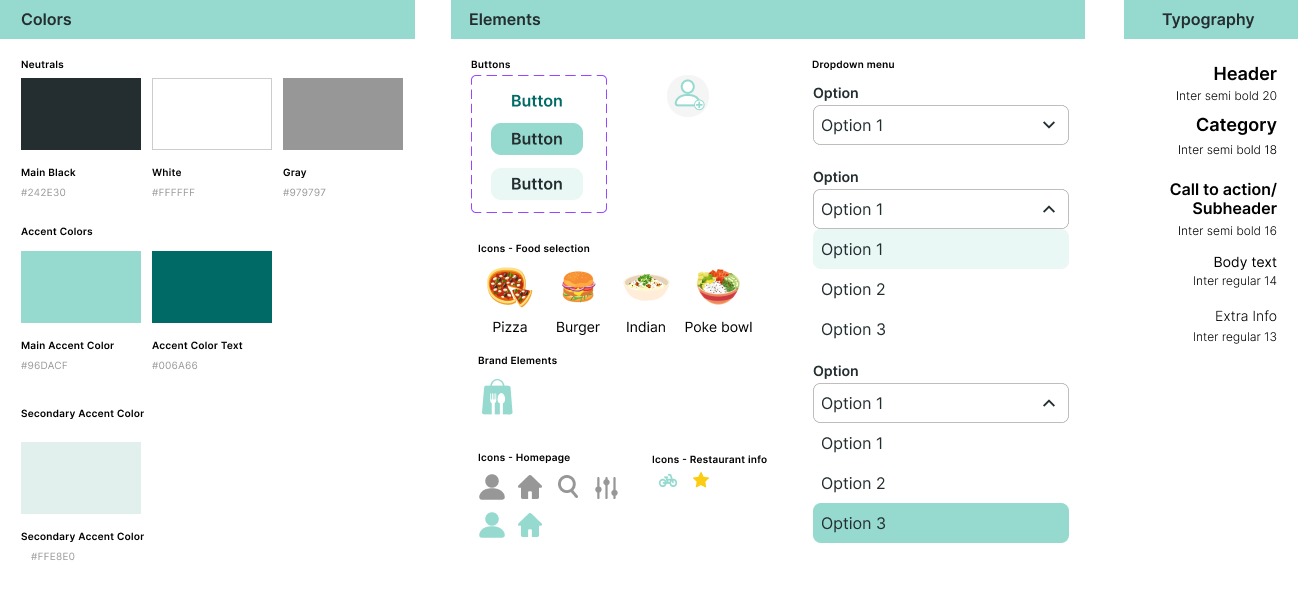 Digital high fidelity prototypes feedback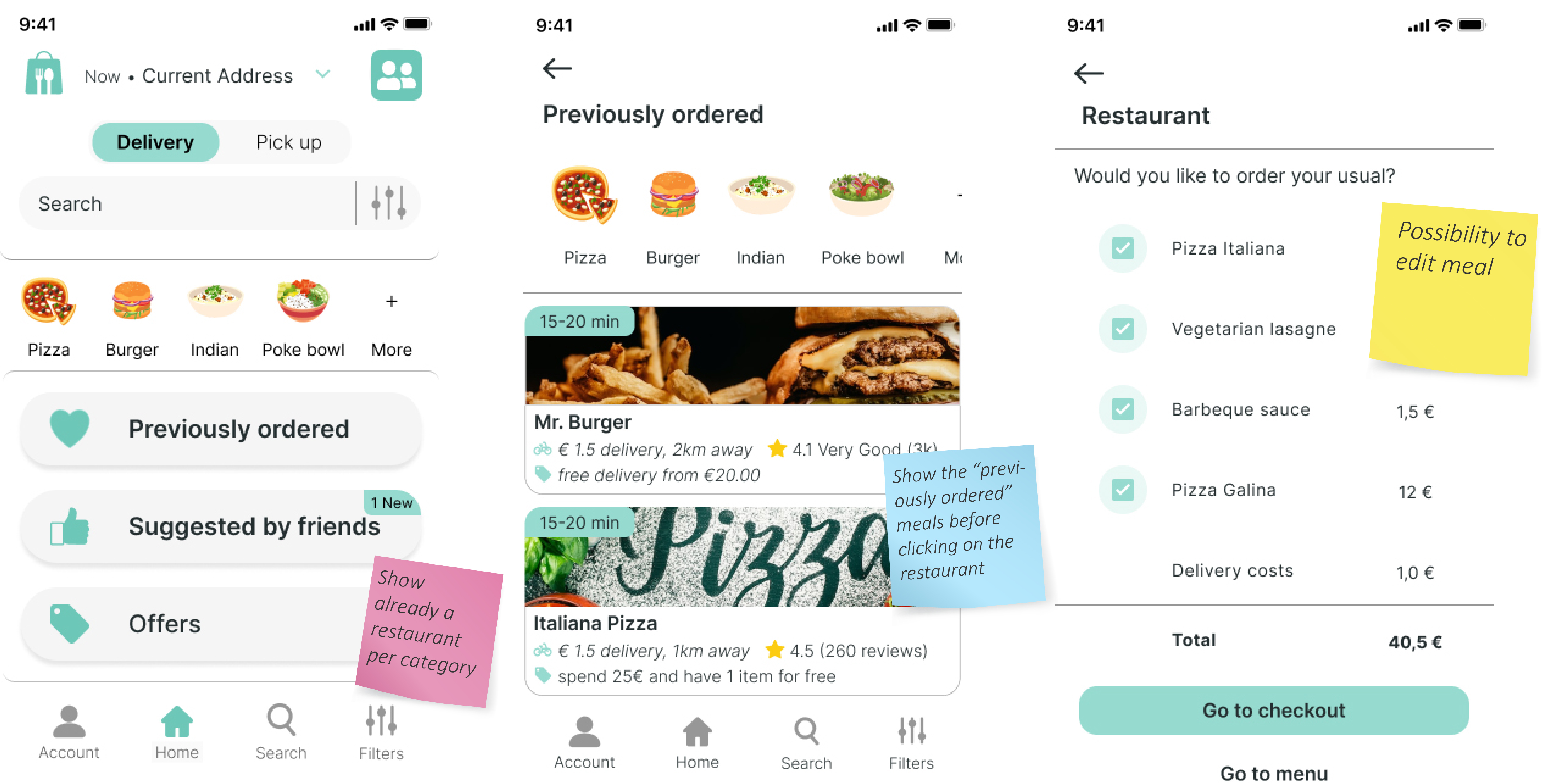 Make your order
Scenario 1
Order your usual from Mr. Burger
Scenario 2
Order the new suggestion by Elen, instead of naan as a side dish select Pilaw rice!
Results and takeaways!
Through testing the final product, it was interesting to see how excited people were, especially with the option of getting suggestions from a friend, not only because it was giving them inspiration but also because they were feeling more connected to their friends.
There were many moments that I felt unsure about a decision. For example after the 1st in person interviews I got some input regarding how people are using similar apps currently and how they feel during the process, however it felt a bit biased to come into a decision only through 5 interviews. Thus I also conducted an online questionnaire in order to have a broader sample.
One more aspect is being open for criticism during the design process. When you work on a design for some time it becomes difficult to decide and change some of its elements. However, it is something that should be done if your research suggests so.
Next steps
How the app could be more appealing for first time users, since previously ordered and suggested by friends (except is someone invited the user) would probably be empty at the beginning

My Menu (the page where your suggestions are shown needs attention)

Track order phase should still be developed